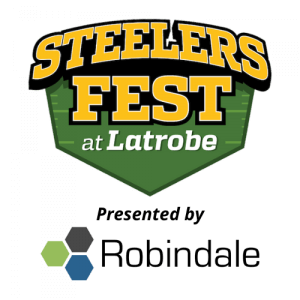 Steelers Fest at Latrobe is a free event with food, vendors, exhibitors, a climbing wall, and live music by our very own DJ DarkShark, along with activities for the family. The event begins at 11am and is free for all to attend.  The Pittsburgh Steelers organization will bring games and prizes, Steely McBeam and the Steeline Drumline! Two Steeler Legends will be on hand from 3pm-5pm signing autographs.  All this happens before 5,000+ fans watch the Steelers Night Practice inside Latrobe Memorial Stadium and closing Zambelli fireworks show.
*Ticket required to enter the stadium. Supports Greater-Latrobe School District athletic programs.*
**Tickets will be available at the Latrobe Memorial Stadium and also inside the Timken Pavillion in Legion Keener Park.**
More information to come.